Dear Diva, My sister is pregnant and I'd like to give her a book about raising the baby "green". Any suggestions? Thanks, Athene Athene, I checked with my Sister, Alania for her favorite. She owns Indigo Baby, an all natural Baby Store in Santa Fe, New Mexico and is up to date on all things Eco Baby!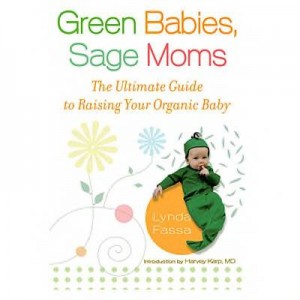 The book she suggested is called Green Babies, Sage Moms: The Ultimate Guide to Raising Your Organic Baby
, written by Lynda Fassa. Green Babies is broken into 3 Parts, Pregnancy, Life with Newborn, and Growing Baby, and it covers many areas that many new mom's might not otherwise consider. I particularly love how it covers cosmetics and personal care products – things we might not suspect as having a potential impact our baby. Green Babies, Sage Moms – Retails for $11.20 at Amazon
. Watching 10 Americans, a video presentation given by Environmental Working Group President, Ken Cook, might be just the motivation an expecting mom's needs to detox their life and by detox I don't mean kick their drug habit!
Browsing Amazon I also found a few other titles that looked worthwhile:
Raising Baby Green: The Earth-Friendly Guide to Pregnancy, Childbirth, and Baby Care
Natural Baby and Childcare: Practical Medical Advice and Holistic Wisdom for Raising Healthy Children
I hope this helps and congratulations on becoming an Aunt ~ you get the fun job!
Do you have a question you'd like to Ask Diva? We'd love to hear from you.
Learn more about diva, Tania Reuben at www.purenaturaldiva.com

Related posts: